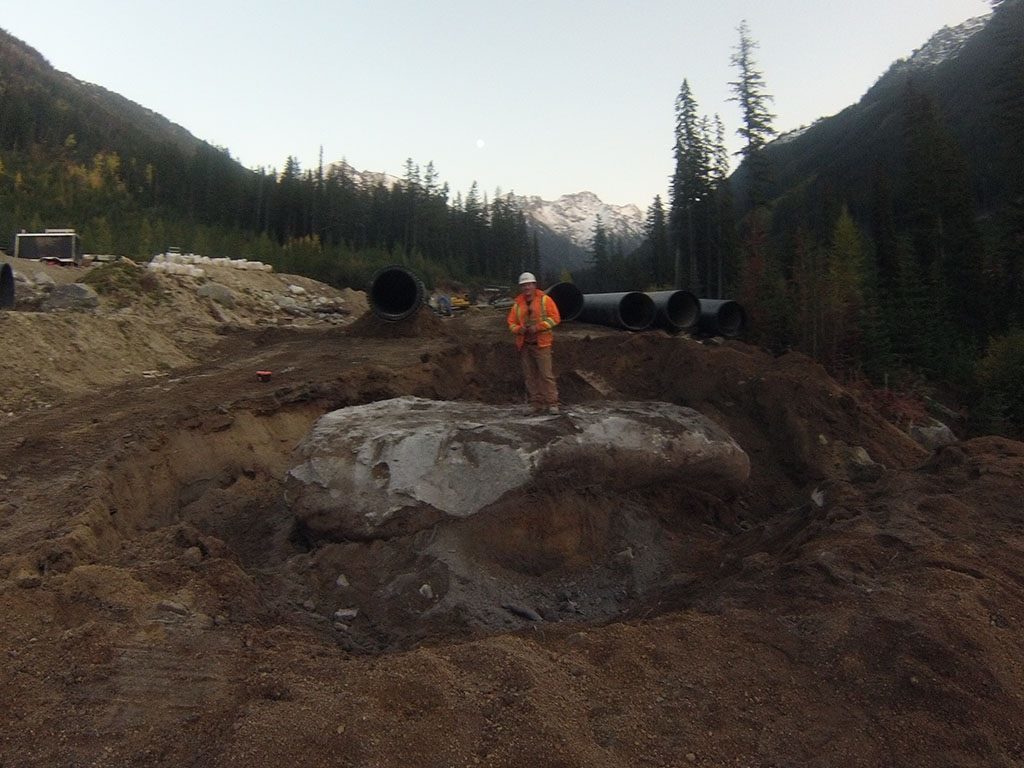 GeoBreak provides rock breaking solutions for jobsites that require sensitive demolition techniques. Our company sells sensitive rock breaking products, provides training for Nxburst ™ certification programs and offers consulting services for projects that require sensitive rock breaking demolition services. We supply our customers with sensitive rock breaking products such as Nxburst ™ Cartridges and Non Explosive Expanding Grout.
GeoBreak Solutions Inc. is affiliated with the Hazelwood Group of Companies, our related companies have been working within the mining and construction industries for over 30 years. We are innovative solution providers within the industries we service.
We have recently re-branded, our previous company name was EcoBurst Rock Breaking Solutions.
SENSITIVE ROCK BREAKING EXPLOSIVES
We provide a simplified approach to rock breaking techniques through access to education and consultation.
Jobsite Specific Scenarios

ROCK BREAKING - CASE STUDIES



Expanding Grout is a non-explosive demolition agent used for breaking rock and concrete. Also known as Expansive Demolition Grout, it is designed to provide job sites with non-explosive solutions for the demolition of rock and concrete in environmentally sensitive areas. Using a non-explosive product for rock and concrete breaking completely eliminates flyrock, noise, vibration from blasting, human discomfort and structural damage related to air blast overpressure. Compared with conventional concrete and rock breaking methods, Expanding Grout is safe, easy-to-use and cost-effective. It does not require heavy equipment, permits, or special certifications.
Buy Now
We provide innovative rock breaking solutions for experienced professionals looking for efficient approaches to removing rock and concrete. We are dedicated to our customers' needs and ensure they receive the product and advice to obtain their desired results.
Testimonials
CUSTOMER
REVIEWS
Matt Girard
Operations Manager
Nxburst has become a foundational product in K2 Stone's quarrying operation. We use Nxburst when we require a well-controlled precision blast with consistent results. We find Nxbust to be a very safe and easy to use product, and is backed by excellent product training and customer support.
Mike Clarke
Project Manager
In an effort to allow safe inspection of existing infrastructure a rock ledge was removed using GeoBreak's expanding grout. The area being removed was adjacent to a water conveyance penstock and concrete headwall structure, thus preventing the use of traditional blasting techniques. Using the recommended drill pattern, we were able to remove approximately 50 cu m of rock while eliminating any risk to the existing infrastructure, eliminating any flyrock, and left with a clean shear line face. By using GeoBreak products we were able to feasibly and safely meet the goals of our client.
Andrew Clarke
Vera Industrial
Nxburst™ products have been our primary choice in sensitive blasting operations. The 1.4s classification allows for easy transportation and handling. The process from drilling, loading, stemming to the blast itself is very easy which results in precise blasting. When there is a job involving critical infrastructure and environmental constraints Nxburst™ cartridges allow for a sensitive solution to meet our clients needs.